Bathroom Remodeling Bay Area
Bathroom remodeling has been a cornerstone of our business. Our team will assist you in designing the bathroom of your dreams, with functionality that will fit your needs, and character that will charm you every time you step in.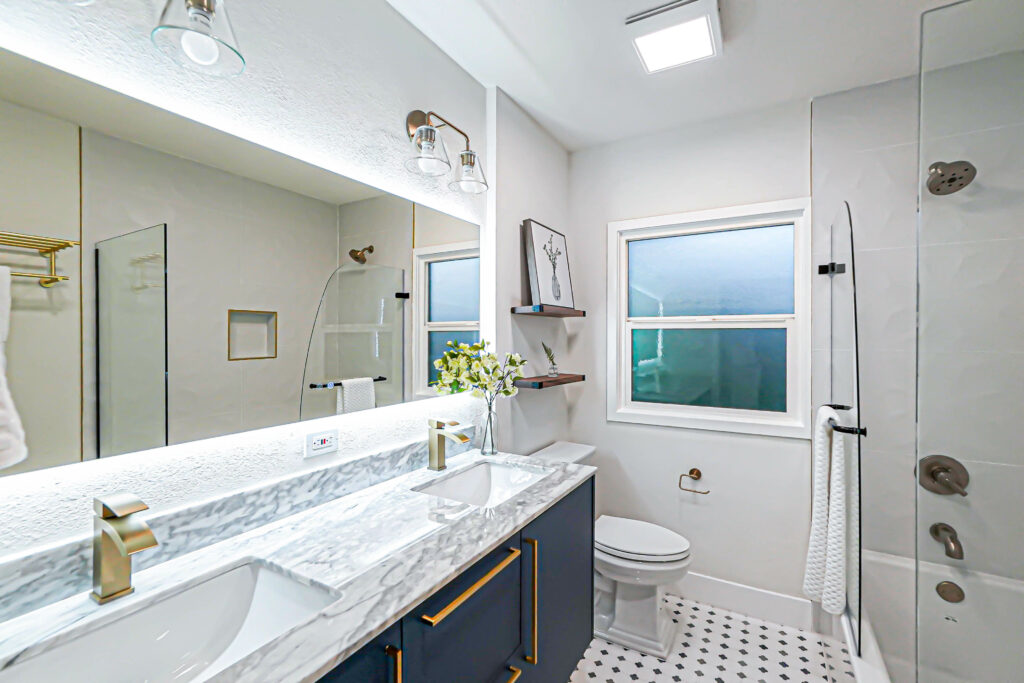 As every gentleman and lady knows – the bathroom is a sanctuary. It's one of the most important rooms of the home and allows you to cleanse, change, and keep yourself looking fresh as the days go by. Give your bathroom the upgrade it deserves, so you can step into an amazing, watery temple each time.
Here are some of the biggest benefits of remodeling your bathroom(s):
More Space To Splash Your Face
We all want more space, and having more space in your bathroom allows you more room to relax while decreasing clutter. The modern styling of a bathroom has more cabinets, drawers, and organizers than ever before. You want something sleek, but cozy – and our team has the best eye and taste to achieve both standards.
A Better Bathroom, A More Valuable Home
Renovating any part of your home will add additional value, but the bathroom will especially do so. We spend over 10 years of our lifetimes in bathrooms, and you can understand why. 
With better, more modern bathroom styling, home buyers will be attracted to your home, because they want to envision themselves showering, bathing, and using your restroom to the fullest. Modern fixtures and amenities will set you apart from other homes, which may have older, more cluttered-looking bathrooms.
Heighten Your Relaxation
Relaxing more is the key to being human, and remodeling your bathroom to make it cozier, and comfortable is key to making the bathroom more enjoyable. Our team will make your outdated bathroom into a modern paradise, mixed with high-tech features that will make your life that much better.
We go beyond just adding jacuzzi jets to your tub and heated seats for your toilet.
Go Green While Saving Green
We also want to do our part in the fight against climate change, and we only install energy-efficient fixtures and appliances in your bathroom. We want to save water, energy, and the overall amount of heat that can be placed inside your bathroom. Everything is EPA compliant, and you can save more money per month as well.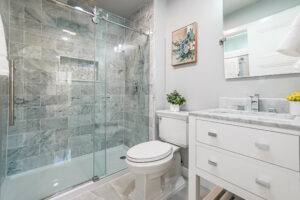 Fixing Various Features
Remodeling a bathroom is not just superficial, you know. When we renovate the bathrooms within your home, we're also going to be checking for leaky pipes, cracked tiles, and other kinds of damage. 
We want to replace all the faulty features within your bathrooms while adding better, more efficient features at the same time.
The Best Remodeling Team in the Bay Area
If you're in the Bay Area and you're looking for the best remodeling team around – you've found them! Bathrooms are a cornerstone of your house, and they need to be renovated in a way where they are more efficient, modern, and spacious. 
Here at Construction Remodeling In Bay Area- we are a licensed and insured home and bathroom remodeling company based in San Jose – but we serve the greater Bay Area. 
We have built the dream bathrooms and homes of many homeowners all across the Bay Area, question is – are you next?
Get in contact with us for a free consultation and estimate, and some help for remodeling your Bay Area home!